Saving Time with a Facebook Chatbot.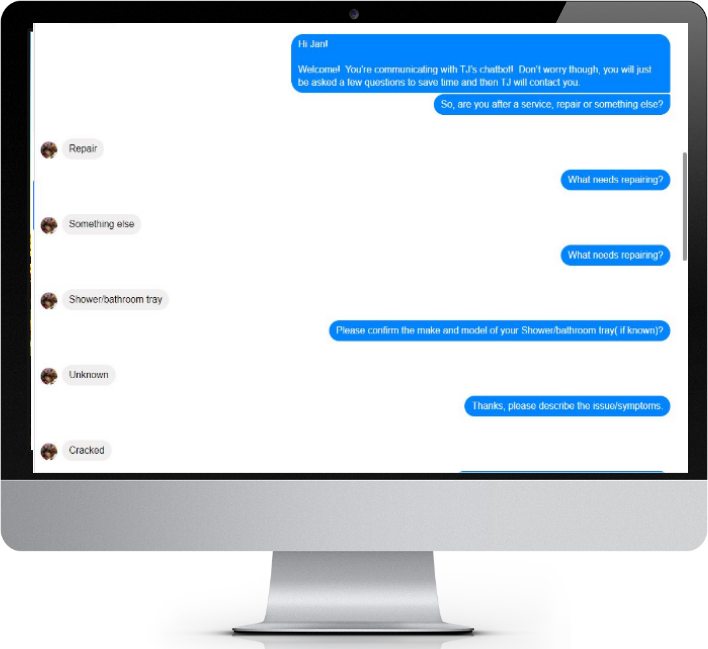 If you use Facebook Messenger to engage with customers, have a look at how we helped TJ's Caravan Services save time.
Background
TJ's Caravan Services provides professional caravan repairs and servicing around Manchester and the North West of England.
The Challenge
As a one man business, Tig from TJ's Caravan Services was spending time each day answering queries on Facebook messenger. Most of the interactions were to ask about the price of servicing or repairs or to book in. He found he was answering the same questions and asking for information from many different people.
The Solution
Our solution was to investigate the use of Chatbots to automate the responses to questions. After looking at a few different options and considering the best way to solve the problem within the budget that Tig had, we decided to go for an off the shelf solution.
We worked with Tig on the various flows for the questions that needed to be answered. The chatbot directs users to choose whether they want a service, repair or something else. Depending on their answers, it collects further information including contact details or the full address. This means that instead of Tig having to spend time on Messenger, he can simply receive an email with all the relevant information.
Note that in the screen shot below that the Chatbot picks up on what needs repairing and "remembers" it.
If you are spending time on Facebook Messenger answering queries, give us a call on 0161 348 7348 and see how we coud help you.
And if you need your caravan servicing or reparing give Tig a call or check out his Facebook page with the chatbot.