Automating tasks on a bespoke Customer Relationship Management (CRM) System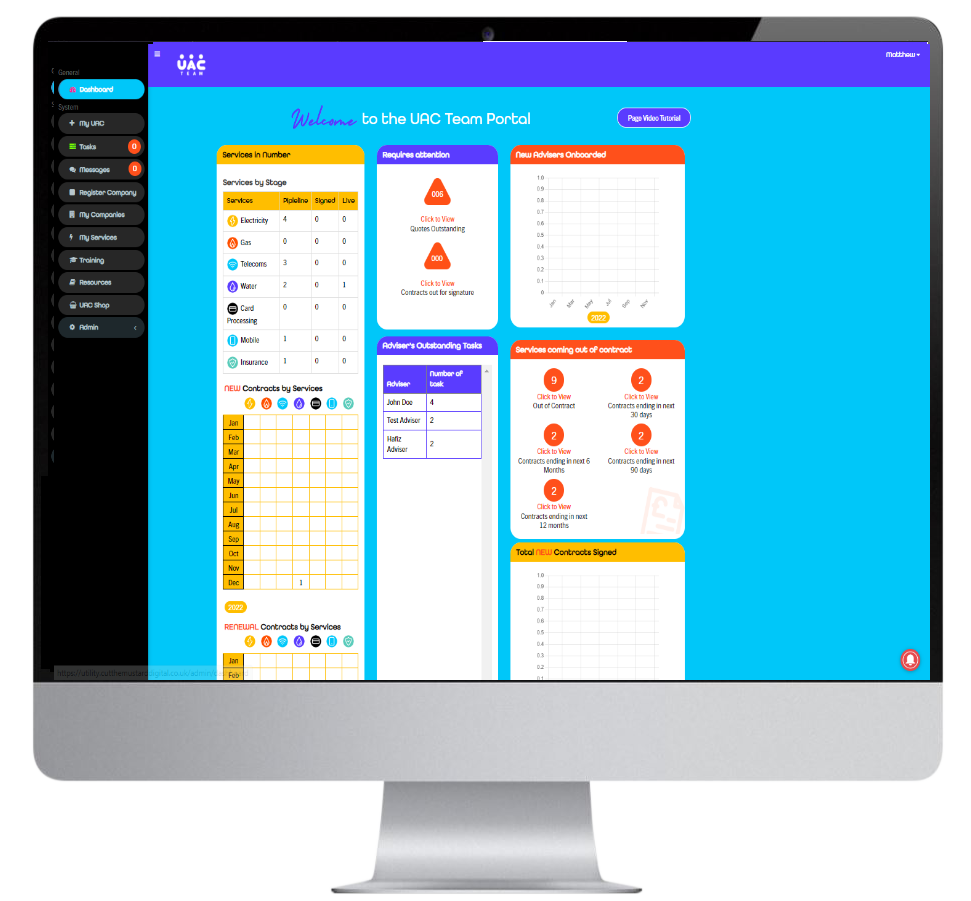 A fully featured CRM system with tasks and live chat
Background
UAC Team provide commercial premises with utility services including electricity, gas, water, telecoms, card processing and insurance.
The Challenge
UAC Team were using an off the shelf CRM system to track where their clients were up to in their quotation process, but it didn't fulfil all their requirements. They also had to pay for each user and that was becoming a significant cost each month. They thought a bespoke system would help but weren't sure where to start.
The Solution
Our solution was to build a bespoke Customer Relationship Management (CRM) system. The company now have a platform that is a fixed cost regardless of the number of users and it is also branded exactly how they want. Simple additional elements such as being able to display an electricity meter number as it appears on the meter makes it easier for their advisers to enter data themselves. The system ensures advisers only see their own customers but it also means a lot of manual chasing can be automated. UAC Team also have task management, document upload and a live chat facility to communicate more easily with their advisers. As it is a bespoke system, we had added further elements such as list management for their advisers, a postcode and Companies House lookup. The system can manage commissions and can be extended further as needed.
We started this as a fully bespoke project with a blank canvas. Initially, the system was fairly small scale with a list of companies, advisers and services. UAC Team started using the system to manage their clients through their workflow so they could capture the data they needed, record quotations, check where documentation was up to and store key dates for services going live. They could also note the renewal dates so they could contact clients in advance.
As we developed the system and UAC Team realised what was possible through a bespoke system, we worked on adding more features including:
My List – so advisers can keep their own list of prospects without creating customers until there is interest
Customer Creation – advisers can create new customers after the system first checks to make sure they don't already exist. This includes a Companies House and Postcode lookup.
Document Upload – so advisers can upload bills directly to the system
Task Management – both for admins and advisers
Live Chat – to engage with advisers. This is also linked to automated reminders being sent.
Customer emails – to send quotes and so customers can go ahead with quotes with a clickable link where they don't have to log into the system
Regular Reminder Messages – we schedule the system to send messages based on what needs to be done. This saves admin time by not having to chase up advisers and customers – the system does the chasing up for them.
Self Service Options – so advisers can download their own commission statements, order stationary and watch training videos.
Dashboard – so admins and advisers can see at a glance the status of services, tasks and customers