Better efficiency with a Bespoke System
If you run your business using spreadsheets have a look at how we helped Organic North
Background
Organic North are one of the country's biggest wholesalers of organic fruit and vegetables. They minimise waste by only ordering what is needed by their customers every week. They operate throughout the UK from their base at New Smithfield Market in Manchester.
The Challenge
Organic North's business relied on a new spreadsheet they created every week with 1200 product lines and around 150 columns. Each week they had to review most of the products and check what was available from their suppliers. They sent the spreadsheet out to all their customers who put their orders onto it before emailing it back. Organic North had to copy and paste the information into a master sheet. This was used to place supplier orders, pick the stock when it came in and produce customer invoices. They were struggling to cope with demand, had issues with inaccuracies and no historic data.
The Solution
Our solution was to understand how the business functioned and the output generated from the spreadsheet they had created. We applied our commercial understanding of running a business and extensive knowledge of systems to come up with a proposal that saved them time and money.
Our starting point is always off-the shelf, there is no point in creating something if it already exists; however it soon became obvious in this instance that their specific requirements needed to be matched against a bespoke solution.
As always, we had a close eye on off-setting any potential cost of developing a system, with the benefits of saving time, improving accuracy and improving the customer experience.
As we had already built up a relationship based on trust with Organic North, they knew we had their best interests at heart and they were involved at relevant times in the decision making process.
The result now is their new system runs their entire business with added benefits of being more accurate, better looking, more efficient and with access to key data.
Our solutions means Organic North can now handle more customers, more transactions and have an increased revenue: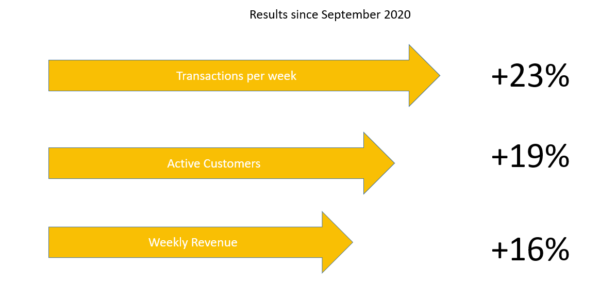 We worked with Organic North closely and broke the bespoke build down into various parts. This helped us to review each aspect of their business to come up with the best solution. Their new system runs every aspect of their business:
Products are switched on and off each week and pricing is easy to change
Customers order online during a limited time window and Oganic North can see of customers have ordered
Orders are collated, amended and confirmed by email
Supplier Orders are created and sent by email
Warehouse locations for customers are managed as well as van deliveries
When goods come in they are picked and checked using the system on tablets
Customer invoices are created and emailed out
Stock and shortfalls are managed through the system
Data is being collected so they can build up a better picture of their business
We decided on an open source approach using a Laravel framework and MySQL database.