Help setting up scheduling software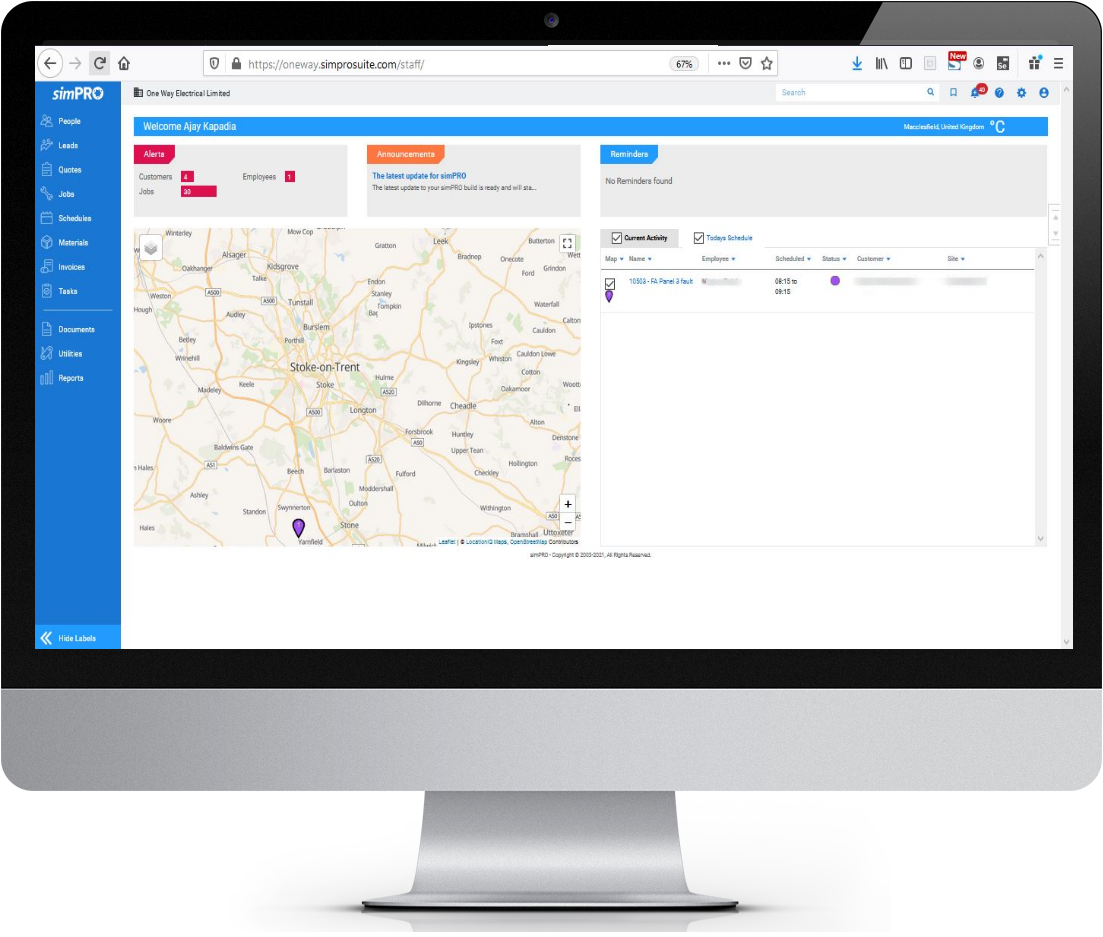 We speed up your implementation of commercial software to get you saving time and money more quickly.
Background
One Way Electrical provide services to companies throughout the UK from their base in Stoke on Trent. They wanted a system to schedule their staff but also automate some of their processes.
The Challenge
One Way Electrical had some good processes but they were on multiple systems. They wanted to consolidate onto one system and were looking for a bespoke solution when they approached us to review their choice of provider.
The Solution
Once we understood their systems, we soon saw that the providers of the bespoke option were uncler about what they would deliver. This meant potentially more risk in a project that would take many months. We took the opportunity to review commercial software providers and found SimPro, a solution that would deliver around 80% of what One Way Electrical wanted to do. Once we had checked the company and the software out, we recommended they should proceed as they would be up and running much more quickly and, importantly, the software had open access to their systems so we could work to deliver the extra  20%. In addition to the recommendation, we helped One Way Electrical with the actual implementation – something that meant they could get up and running and could use much more of the software than they expected.
We worked with both One Way Electrical and SimPro to ensure a smooth transition from multiple systems. Our work involved:
Migrating customer and supplier data
Checking setup costing data
Migration of service contracts
Setting up workflows and triggers
Creating a catalogue of parts
Setting up of customer assets
Setting up document templates
Linking to Xero
We also found and implemented a solution which meant that One Way Electrical could import thousands of parts, all with their fit times to make quoting and costing much easier.
Our involvement meant that One Way Electrical were running on SimPro within a few weeks and they were using all parts of the system.
In addition to the implementation, we worked with One Way Electrical to build a system to extend SimPro using their API. This means One Way Electrical can now:
Automate the creation of RAMS
Have engineers view and sign RAMS online
Create Quotations with fit times automatically added
Allocate Toolbox talks and policies to engineers to review online
Allow customers to set up their own site addresses and contacts
Allow engineers to carry out and record routine inspections, such as vehicle checks and ladder checks online
Allow engineers to send site progress and site issues reports online